***************
Crochet Beaded Wrist Warmers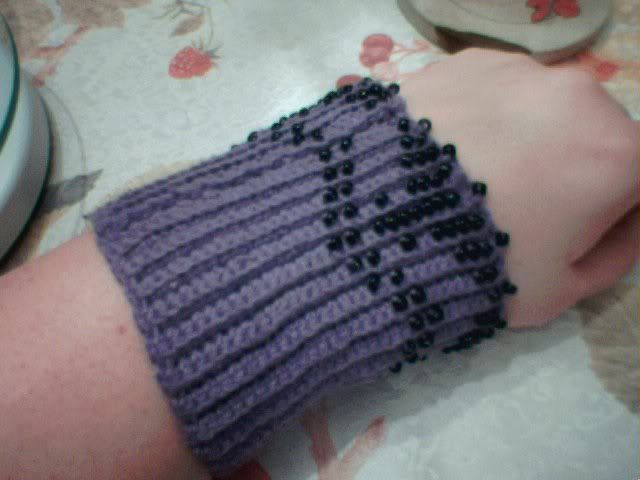 Size 3 crochet thread - I recommend DMC Senso
Large seed beads sufficient for the pattern you choose.
This pattern produces 32 rows of beading, with 29 beads possible per row. (32x29)This is very adjustable - in fact I recommend that you adjust the pattern to fit your wrists, not mine! :)
I have found that graph paper works great for creating a pattern, and I have found inspiration in everything from knitting books to old video games. Pick a pattern that you will enjoy!
String required number of beads on thread. I recommend using a beading needle - it makes it MUCH easier! Don't forget this step, because you CANNOT string the beads on later - at least, not easily!
Chain 30.
Row 1: SC through the 2nd chain from hook and back along the chain to the end (29 sc). Turn.
Row 2: Ch 1 (1st SC). SC back along row, in back loops only, placing beads according to the graphed pattern. Turn.
Row 3: Ch 1 (1st SC). SC in back loops only (29 SC). Turn. (No beads on this row!)
Rows 4 -64: repeat rows 2-3, following the charted bead pattern on all even numbered rows. Bind off in your favorite method, and stitch ends together to form a warm, beaded cuff.
****************************************
*****************
****************************************
Current Mood:

accomplished

Current Music:

Hilary Hahn Plays Bach